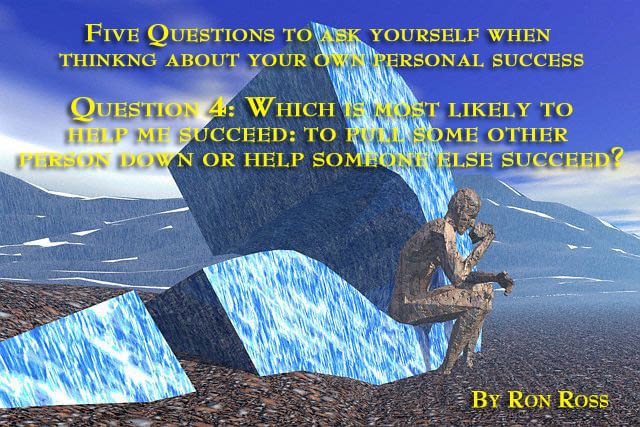 You know the answer: you help yourself most when you help others succeed. But the easier thing to do is pull everyone down, or at least to continue to hang with those who refuse to do anything positive or take any affirmative action to improve their lives.
It is easy to find people with whom you can share your desolation; their numbers are legion and their lives are miserable. They welcome – even invite – others to join them in their misery. And you know what else? Few if any of those so-called "friends" found in the misery ditches of life will do one darn thing to help you out. In fact, just the opposite will occur. They will work to keep you miserable, because in some way it justifies their own wretched lives.
It takes a brave person to pull themselves up and out of dependency and poverty. It takes courage to seek, find, and employ personal solutions to personal problems, but when you do, oh my goodness, when you do, how life changes for the better.
[Tweet "It takes a brave person to pull themselves up and out of dependency and poverty."]
But here is a strange truth: Your move out of despair will come quicker and be easier when you help lift another out of their despair. Funny how it works, but if along the way you find someone in need of love, acceptance, hope or help, and you give it to them you get much more in return than your investment required.
Remember the song Josh Groban made so popular: You Raise Me Up? The song was first written as an instrumental piece by Rolf Lovland titled, "Silent Story." The lyrics were added by Brendan Graham. It was first performed at the funeral of Lovland's mother.
The chorus rings in the hearts of all those who want to move from poverty to prosperity, from despair to dignity and from resentment to renewal.
            You raise me up, so I can stand on mountains;
            You raise me up, to walk on stormy seas;      
            I am strong, when I am on your shoulders;
            You raise me up to more than I can be.
Life is not good in the ditch of dependency or the prison of poverty. You can escape them if you want to bad enough. But if your focus is to bring others down to your level no one will ever stand on your shoulders and you will never be any more than you are right now.
Hurry your way out of failure by raising others up. Become an encourager, a helper, an advocate. Let others stand on your shoulders and by so doing you will enrich your own life and improve your little corner of the world.
Think of it, wouldn't it be something to one day hear someone sing to you, "You raise me up to more than I can be."
Arnold Schwarzenegger summarized the point I'm trying to make: "Help others and give something back. I guarantee you will discover that while public service improves the lives and the world around you, its greatest reward is the enrichment and new meaning it will bring your own life."
http://www.brainyquote.com/quotes/keywords/service.html#oiBumdam74CJOVWH.99
©2015 Ronald D. Ross