Ron Ross
By 8:00 pm that night the pain around my heart had increased substantially.
I figured it was one of those gas bubbles created by the extra-bacon BLT I made myself a few hours earlier.
Problem was, it kept getting worse. I changed sitting positions, swallowed some antacids, took a short walk, drank a couple of glasses of lukewarm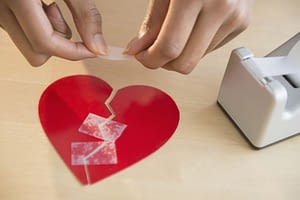 water, and more. No relief, so I took a couple of more antacids and drank another glass of water. Put on my PJs and watched some TV.
Problem was, it kept getting worse.
By now it was 9:00 pm and the pain was sometimes unbearable. I missed my wife Amy because she would be comforting me gently while she stood in front of me with her hands on her hips, "We've got to get you to the emergency room," I could hear her say. "You may be having a heart attack!"
I could hear my response: "Aw, it ain't that bad yet. What if I get to the ER and spend three hours and a few thousand bucks and it's just gas pains?" She would shake her head "no" and wag her finger in my face, but I would stand tough – like most men.
Since I didn't have Amy with me anymore, and the pain was getting worse, and I was getting tired of visualizing Amy's finger wagging in my face, I called the Nurse Line on the 800 number listed the back of my health insurance card.
Nurse Rachel answered. She had a soft, assuring voice with a beautiful southern accent, Mississippi or Alabama I would guess. She asked me a dozen or so questions. Her conclusion was that I should go to the ER only if it got worse.
I didn't want it to get worse; I wanted it to get better.
My next idea was to go to bed and hope the bubble of pain would burst and my misery would be over. Once I hit the mattress a new pain started. It went up to my left shoulder and into my neck. To relieve the pain I lay down on the floor and tried to stretch out the pain and release the gas bubble.
Didn't help. But it did get worse.
"OK, Amy," I said out loud. "You win. I'm going to the ER."
If you want good service at any hospital ER, tell them you're 73-years-old, and you have heart pains. You don't wait in the outer lobby at all. You don't even have to come up with the copay yet. The admissions lady entered a little data into her computer, slapped a plastic arm band to my right wrist, grabbed a wheel chair and personally drove me to the big double-doors that secured the entrance to the ER department.
Once in my private room, a PA (Physicians Assistant) came in. He recognized me and thought he had worked on me before.
"No sir, you didn't work on me," I told him. "You handled my wife two or three times when she came in for a variety of issues."
His brow furrowed as he glanced at the floor in silence. When he looked back up, he had that question-mark look on his face. I knew what he wanted to know. With a quiver in my voice, I told him. "She went home to be with Jesus almost two years ago. You folks here did the best you could."
He proceeded to order me an EKG, blood tests, and later, a CAT scan. Most of the time I waited alone wishing my Amy was with me, holding my hand, wording a prayer, brushing the hair out of my eyes, and straightening up the blanket to cover my cold legs.
Son David arrived about an hour into the event. Because he is studying to be a pharmacist he asked me all of the same questions my Mississippi nurse did and the ER nurse did and the PA did.
He advised me, "You didn't need to come in." He went on to tell me; it sounds like a gastro-something-or-other problem. At least he didn't wag his finger in my face as his mother did.
"Yeah? Well, let me tell you this," I snapped, "It still hurts."
He smiled.
About an hour later the PA returned and sat down like he had something very important to tell me.
"Mr. Ross, your EKG was clear, your blood work came back really good, and we found nothing to concern us on the CAT scan. We're setting you loose. We're sending you home."
Then the nurse came in with an evening "cocktail" for me. It was a combination of putrid tasting medications intended to reduce pain and relive my gastro-whatever-it-was problem. I swigged it down like a shot of bad whiskey and drove home.
On the way I complained to myself, "See, Ronnie, you were right all along. It was a tummy ache, not a heart attack."
"Problem was," I reminded myself, "the pain kept getting worse."
I drove two more blocks and made a left turn toward home. "Yeah," I said out loud to the windshield on my truck, "but Amy told me to go, and I did."
Then it hit me; this wasn't the worst heart pain I had ever had. The worst heart pain I've ever known started on Dec. 4, 2015, when two guys from the mortuary showed up to remove Amy's body from our master bedroom. My heart hurt badly that day. It still hurts. Sometimes it hurts really bad.
I suppose that nasty-tasting cocktail of pain killers and antacids soothed my hurting heart and helped me to sleep. I suppose. But I can tell you this; it takes a lot more than that to heal a broken heart.