Jack's Drive-Inn in Council Bluffs, Iowa in 1958 was not anything like the fancy diners and ice cream stores we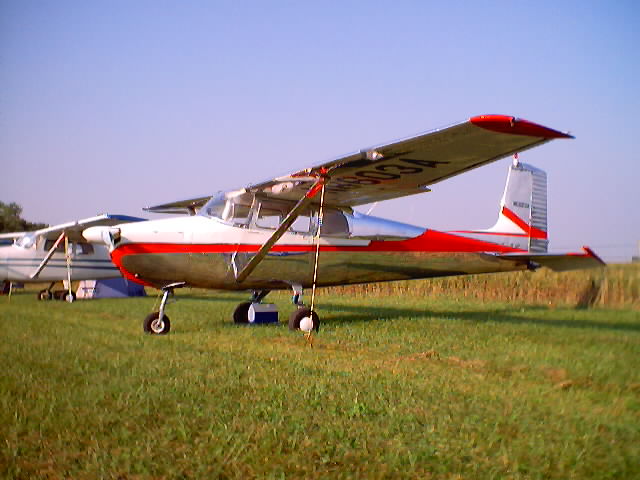 now have. It was a large added on section of a house that stuck out into a parking lot that could hold not more than four or five cars.
Jack made hamburgers, French fries and perhaps the world's best malted milk. On a hot, muggy afternoon not far from the Missouri River there was nothing better than a malted milk at Jack's Drive-Inn.
I was in the ninth grade at time and my father was the pastor of a little church on the south side of Council Bluff's railroad tracks. Jack's Drive-Inn was about six blocks from the church and best of all it was on the way home from the Council Bluffs airport.
That was important because my dad owned an airplane and he gave flight lessons to pay for the up-keep on the little four-place Cessna. My older brother and I would often go with dad to the airport and just hang out while he gave lessons.
The best ending to those hot days at the airport was a stop on the way home at Jack's Drive-Inn for one of his delicious malted milks. Dad always ordered vanilla, my brother and I alternated between chocolate, strawberry and butterscotch.
To get some relief from the sun and humidity Dad would pull our light green and white 1957 Chevy station wagon under a tree.  The three of us would sit there and sip our malts until we heard that sad slurping sound at the end of our straws that indicated we were done.
I don't remember any significant conversation nor do I recall there was ever any agenda other than slurping down our tasty malts. I do remember watching my dad take a long sip on his straw, smack his lips and say, "man, that is a good malt."
Decades later and only a few years before Dad died I visited him and my brother (now a professional pilot) in Leesburg Florida. On one hot afternoon the three of us stopped at Dad's favorite little burger joint to have a malted milk. This time we all ordered vanilla. It didn't take Dad long to lean back on his chair and say, "man, that is a good malt."
I tell you this story because it illustrates the dramatic difference between what one writer calls trinkets and treasurers*. Dad could have bought us fancy toys, taken us to popular events, or sent us to a variety of youth activities. While he did some of that, what he did most was give us his time, his presence, his companionship.
Toys, tickets or travel would have been fun but they could not replace the treasure of Dad's time. I'm not certain on the cost of burgers and fries at Jack's Drive-Inn in 1958, but I'm pretty sure the malt cost only twenty-five cents. The malts were not expensive but the time spent sitting under a shade tree with Dad, sipping a malted milk, was priceless.
It appears to me that too many children these days are being raised by SmartPhones, television sets, youth activities, dance or soccer camps, rooms full of electronics, over-booked schedules, and Internet friendships. All those things are trinkets compared to the treasure of a few quiet moments with Dad.
©2014 Ron Ross * "Sophistication is understanding the difference between trinkets and treasures." – Jim Rohn