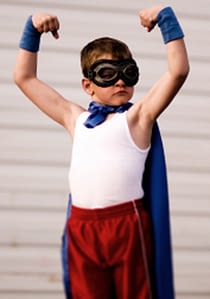 "9 Self-assuring Affirmations for When You Need a Little Boost," boasted the headline. I clicked on it hoping I might learn something new. I didn't. It was a series of nine little pictures with clever sayings on them. The "writer" provided no content beyond a short introductory paragraph that ended with this: "If you're looking for a little encouragement, check out the self-assuring affirmations below. Then take on the world with the knowledge that you're capable of anything."
I'm capable of anything? I don't think so. I proved that on Friday when I played basketball with a bunch of seniors and tried to jump to get a rebound. I can't jump much over one or two inches anymore. I could affirm myself able to slam-dunk the basketball from here to eternity and it simply will not happen.
I decided to read the affirmations anyway because who doesn't need little encouragement from time to time. As I read them two words stood out: I and ME. One of those two words was a part of every affirmation. It made me think, do we really get self-esteem by talking to ourselves or do we get self esteem by accomplishing a goal, working hard on an important project, or by helping someone in need?
So here's what I did. I looked at each of the nine affirmations that were supposed to give us a boost and I turned some of them upside down. By so doing, I think I have made them right-side-up. See what YOU think!
The first affirmation was, "This challenge will bring out the best in me." No doubt challenges bring out the best in us. When pushed beyond what we think we can endure or beyond what we think we can accomplish, we often surprise ourselves at what we really can accomplish, given the opportunity and the motivation to get it done.
Turn that affirmation up-sided-down and, instead of saying, "This challenge will bring out the best in me," declare, "How can I help you with the challenge you face?" Do you see the difference? One focuses on me and my challenge, and the other focuses on how I can help someone else through their difficulty. Which one of creates the most self esteem? The one that is only a declaration about me, or the one that gets me involved in someone else's life?
The second affirmation said, "I will see the best in myself." Once again I understand the affirmation and that many people often put themselves down. However, when you turn that affirmation up-side-down, it takes the focus off of me, myself and I and puts it on the other person. Instead of "I will see the best in myself," declare, "I will see the best in every person I meet today."
Think about it: what if you said something nice to every person you met today? What if you handed out compliments to the people you do business with or the neighbors next door or the people who wait on you at the mall? It is always better to focus on other people rather than to gaze at your navel and think that by so doing you will achieve a sense of self-worth or enter into a meditative state of sublime peace.
Affirmation number 3: "I will thrive when life throws me a curveball!" Turn it up-side-down and it would say, "I'm here to help YOU when life throws YOU a curveball." Don't you think your self-esteem will rise when your life is about serving others rather than just serving yourself?
The fourth affirmation said, "I love who I am becoming." Whoa. Wait a minute. Wouldn't falling in love with "who I am becoming" depend a little bit on "who I am becoming?" I recall times in my life when I was becoming a real jerk and NOBODY loved that, especially me. So let's just forget that affirmation altogether.
The fifth affirmation said, "I am worthy of this opportunity." Like the previous affirmation, that would depend on the opportunity, would it not? Fact is we have all been offered so-called opportunities that were really traps or frauds or snake oil. I do like the focus on opportunity rather than the popular focus on entitlement or privilege that some people think they have because they are a certain color or age or profession or rank or member of a certified victim class.
The sixth and seventh affirmations are similar: "I have the power to achieve my goals," and "I know I can do this." Goals are good and the power to achieve them is within you, but I have a question for you: Have you ever used your power to help someone else achieve their goals? That might bring you a great big surge of pride, self-esteem and self-confidence, not because you achieved your goals but because you helped someone else achieve theirs.
The eighth affirmation said, "I have so many good qualities to share with the world." Well aren't you special! Do you see what I mean about how these affirmations are so "I, me and my" focused? They are starting to make me ill.
The ninth affirmation we are supposed to start using to give ourselves a boost is this: "I am always growing and developing." OK great, so here's what I recommend on this one: Grow and develop a sincere interest in other people and stop gazing at your naval. Get out of you cocoon, get involved in something that focuses NOT on helping you become all that you can be, but helps someone else become all that they can be. You will find more joy, more satisfaction, and more self-esteem when you focus on others than you will ever find by focusing on yourself.
Artist and art critic John Ruskin who lived in the 1800s wrote a sentence that summarizes the danger of focusing only on me, myself and I. He wrote, "When a man is wrapped up in himself, he makes a pretty small package."
To read the article that precipitated this blog posting, CLICK HERE.